LG Tool / SG Tool Remote Services Activation
allows its owner to benefit from one of the best servicing tools for LG and Samsung phones' unlocking and repair. With
LG Tool / SG Tool
you'll be able to service most of the supported GSM and CDMA models: from simplest phones to top-level smartphones and tablets.
LG Tool / SG Tool - Outstanding Features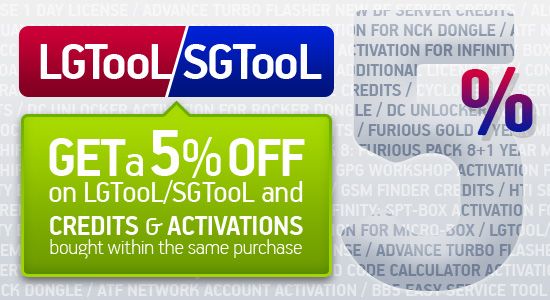 Price: 62.23 usd
Delivery Time: [Instant 6 Hours]
Average delivery time: 2 Hours
Please note:
You should provide us your SE Tool smart-card's serial number while placing the order.
Payment Methods:

We accept all major credit cards as well as PayPal, Payza, Skrill (Moneybookers), Western Union Money, & Bank Transfer payments.
Further question? please use
[Only registered and activated users can see links. ]
form and choose option as you need. 24x7 support
HTC, LG, Motorola ZTE, Huawei, Pantech, Alcatel unlock via IMEI/MEID
Samsung, Sharp HTC, LG remote unlock via cable
GSM
Read/Write Full Flash
Read/Write NVM
Read/Write FS
Read/Write Security Area
Flash Firmware
Phone Unlock
Read Unlock Codes
MCC/MNC locks detection
Lock phone via MCC/MNC
Read/Write Bluetooth Address
Read/Repair IMEI
Read/Repair IMEI 2
Factory Reset
CPU Detection
Repair "Yellow Screen"
CDMA
Read/Write SPC
Read/Write OTKSL
Read/Write ESN
Read/Write MEID
Read/Write Phone Number (MDN)
Read/Write SID/NID
Read SSD_A, SSD_B
Read/Write PRL
Read User Lock Code
Read/Write Digital MIN
Read/Write AKEY
Dump/Flash NVM
Flash Firmware
Read/Write ERI
Read/Write EFS
Refurbishment (repair blink)
Supported brands:
[Only registered and activated users can see links. ]
LG Tool / SG Tool - Supported Models:
[Only registered and activated users can see links. ]